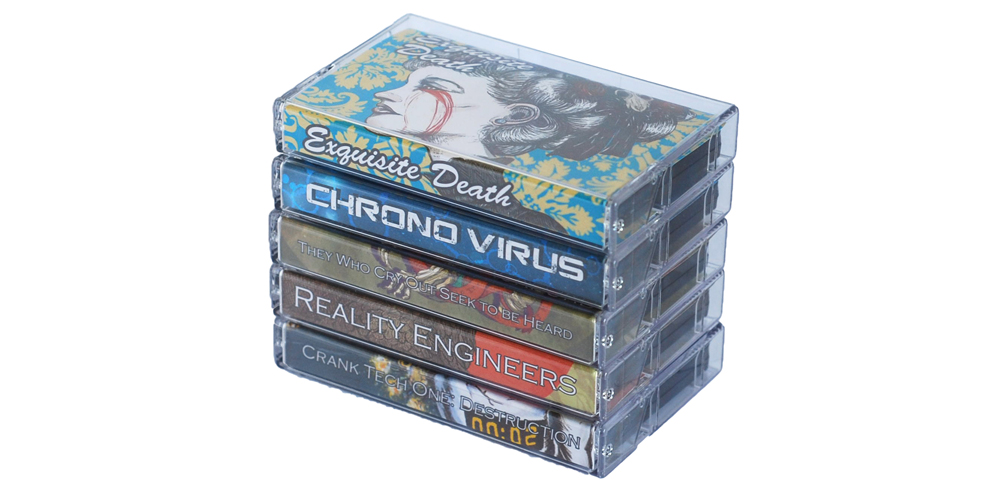 Why just download an audiobook when you can display it?
Audiobooks are becoming a standard part of any book-lovers personal library. They allow them to enjoy their favourite author or narrator while commuting to work, walking the dog or just relaxing at the end of a hard day of work.
However as audiobooks have become more digital they have also become more hidden in our all-important home libraries. Showing off an impressive list of audiobook icons on a tablet isn't quite the same as pointing someone at the bulging bookshelves filled with well-loved dog-eared paperbacks.
In Ear Entertainment wants to solve that by introducing its Audiobooks On Tape product. Linking back to the 'books on tape' that many people experienced in their youth, it sells audiobooks on a USB memory stick shaped like a cassette tape, complete with case, J-card and cassette stickers.
Mark Chatterley, The One in Charge at In Ear Entertainment and Audiobooks On Tape, said: "When I was young listening to a Book On Tape was always a highlight of any car journey. Holding these products in my hands brings all those memories back.
"Everyone who has seen the tapes loves them. From older readers who remember the original Books On Tape they borrowed from the local library, to younger readers who love the retro look and feel they have."
The service launched on 1 August with all of In Ear Entertainment's audiobooks available to purchase. Titles from other publishers and self-published authors will be added over time allowing a customer to build up their own library of Audiobooks On Tape.
To see the full library of audiobooks available and find out more, go to www.audiobooksontape.com
### ENDS ###
Notes for Editors:
A full asset package, with information, images, logos and quotes can be downloaded here.
Review copies can be obtained by emailing press@audiobooksontape.com. Special offers and discount codes can also be arranged.
The audiobooks are delivered on a shaped 4GB USB memory stick. The customer is able to choose between a retro and modern look to their Audiobook On Tape and also what audio format they prefer.
Audiobooks On Tape is a trading name of In Ear Entertainment Limited. In Ear Entertainment Limited is a registered company in England and Wales. (Company number: 07478451.)
Audiobooks On Tape
Website: www.audiobooksontape.com
Twitter: @AudiobookTapes
Facebook
In Ear Entertainment
In Ear Entertainment is an audiobook publisher that focusses on supporting up and coming creatives. It publishes scifi and horror short stories and novellas in audio form.
Website: www.inearentertainment.com
Facebook
Twitter: @InEarEnt
Direct audiobook shop link 
Audible: Publisher page