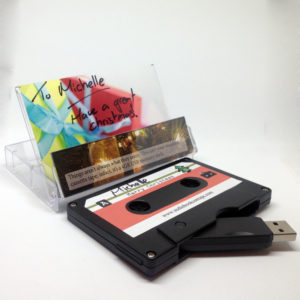 We are happy to work with companies and individuals to provide bulk orders. We can supply the USB tapes with your content or blank along with stickers on the tape, cases and J-card inserts. Just get in contact with us to discuss your needs.
There are many uses for our products and we can work with you to ensure they fit your purpose exactly. You can put any digital files on your 'cassette tape' or leave it blank as a gift for your customers. For instance you could include product launch information, photos, video along with promotional tools on the tape. For inspiration, we believe the 'Audiobooks On Tape' format would be perfect for:
Subscriber or renewal gifts for your customers
Christmas gifts to your workers
Promotional tools for a product launch
Eye-catching giveaways at a convention
Wedding favours
If you have any specific questions, please get in touch.